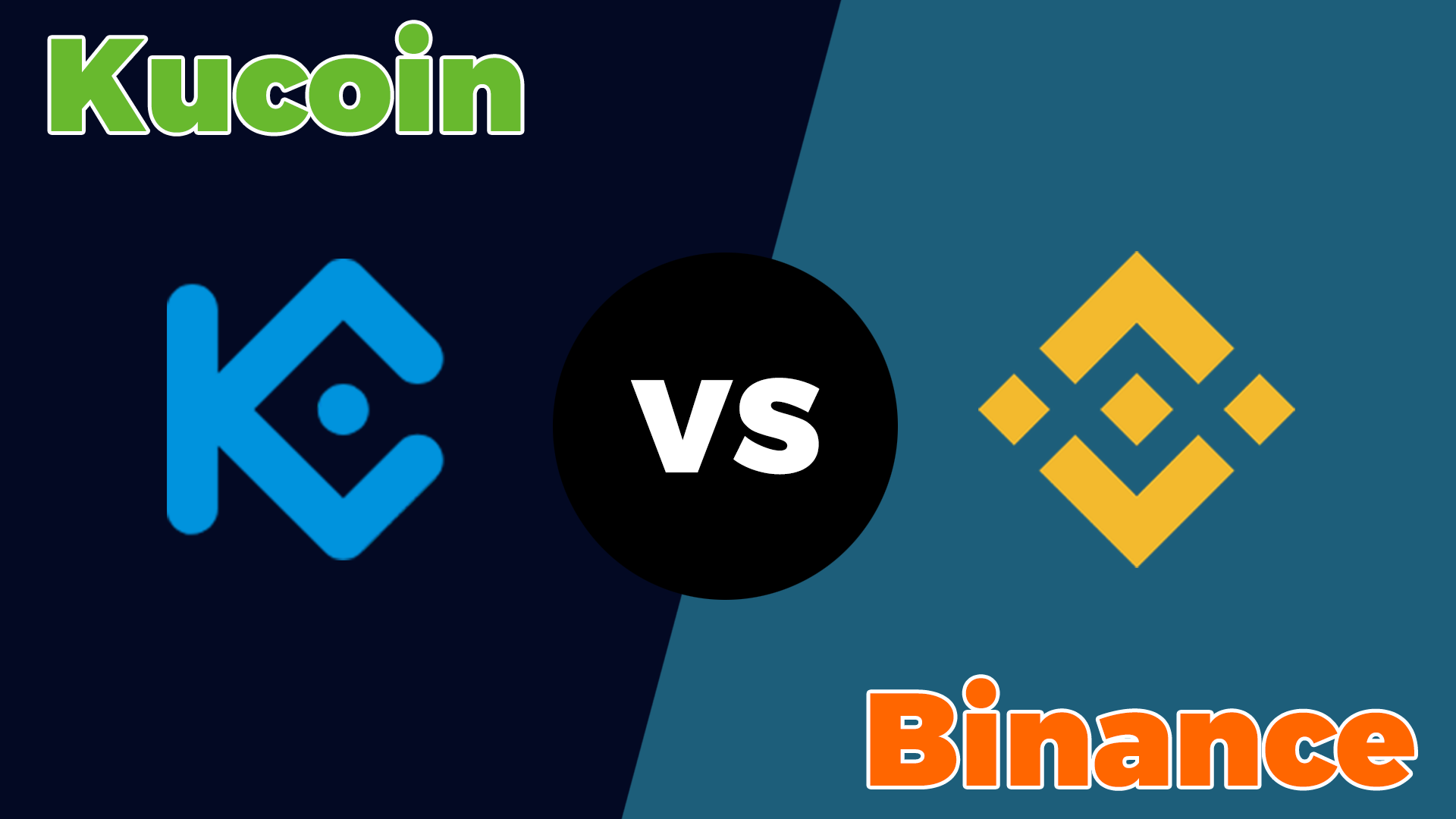 KuCoin Exchange Vs Binance Exchange! Which Exchange is better? Both Cryptocurrency Exchanges are based in Asia and currently growing in Users like crazy.
What's the difference between KuCoin and Binance? Find out in this Post!
Click here to Signup for Binance: Signup Now
Click here to Signup for KuCoin: Signup Now
Binance Exchange Review
Binance is a huge cryptocurrency exchange with a focus on crypto-to-crypto trading. The platform has started to gain popularity in the blockchain community thanks to its impressive coin offerings and insanely low trading fees.
Although the company was launched just a few months ago (via ICO), the exchange is already one of the biggest one out there.
Binance Trading Interface
Binance has two Trading Interfaces. One is called "basic" and is a bit easier to use and the other one is called "advanced".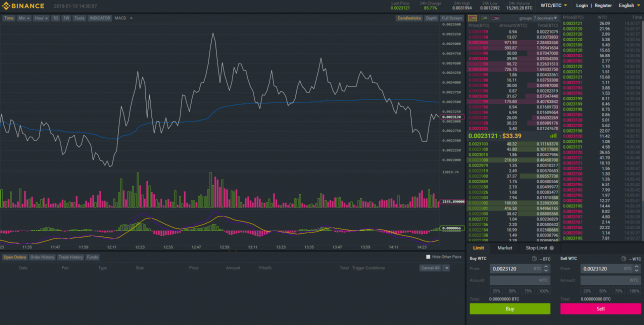 Binance Team
Binance has a very experienced & solid Team led by Changpeng Zhao, with both traditional wall street finance and cryptocurrency experience. They have a track record of successful startups under our belt.
Changpeng Zhao (CEO)
CZ is the founder and CEO of BijieTech, a company that provides cloud-based exchange systems to exchange operators.
Roger Wang (CTO)
Roger is a co-founder and the CTO. He has been working in the financial industry for 10+ years, responsible for building up technical teams, designing the high level architecture of the exchange and clearing systems, and running ops teams to
ensure the security and stability of exchange systems.
James Hofbauer (Chief Architect)
James is a co-founder and the Chief Architect of BijieTech. He architects and implements the core matching engine and its middleware. He also oversees client exchanges' public endpoints to ensure security and high performance.

Allan Yan (Product Director)
Allan is a co-founder and the Product Director of BijieTech. Allan has over 10 years of experience in product design, user experience and trading. He drives the innovations in the exchange systems built by BijieTech, and pushes the product far ahead of the the competition in this ultra competitive space.

Binance Trading Volume
As you can see, Binance has a huge trading volume already and is in the top3 of all exchanges!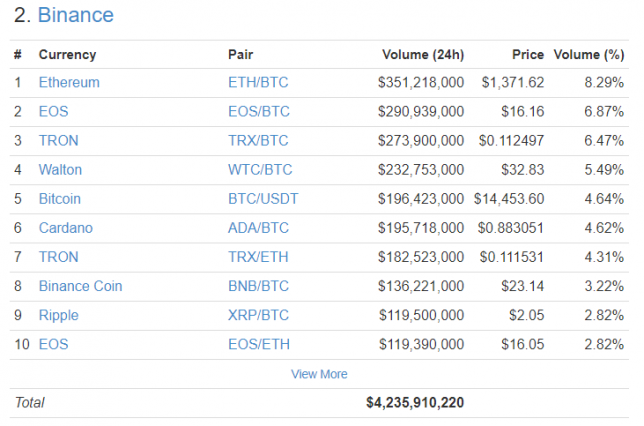 Binance Exchange Fees
Trading Fees
0.1% trading fee
Deposit Fee
Free
If you're holding their $BNB token, you can even lower that fee. Sometimes Binance does special promotions, where they offer discounted fees or even "zero fees" for a limited time.
Binance Listings
Binance is constantly looking out for new great coins to list. So far, they have listed quite a lot of good coins with great potential.
KuCoin Exchange Review
KuCoin is a cryptocurrency exchange launched on September 15, 2017. The platform uses KuCoin Shares (KCS) in a similar way to Binance. You get a discount on trading fees when you use their KuCoin Shares.
Overall, they aim to be a more user-friendly exchange than traditional exchanges available today. The platform shares 90% of trading fees with users, for example. They also offer 24/7 customer service and generous referral rewards.
They has also been known for posting coin pairs before they hit other major cryptocurrency exchanges. The website features a list of coins scheduled to be added to the platform in the near future.
KuCoin Trading Interface
KuCoins Trading Interface has been made with the "TradingView" API. I think it looks absolutely great and its one of my favourite Trading Interfaces out there!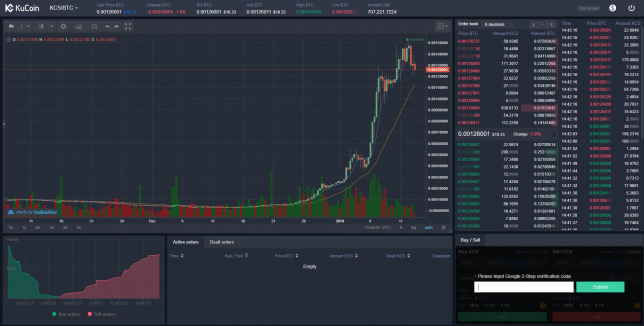 KuCoin Team
KuCoins Team is top-notch and they got a lot of very experienced people in their team. The CEO of Kucoin, Michael Gan is a Former technical expert of Ant Financial of Alibaba Group, a veteran of financial solutions, and senior partner of Internet giants like MikeCRM, KF5.COM, etc
Michael Gan (CEO)
Former technical expert of Ant Financial (Alibaba Group) with a good understanding of financial solutions similar to Alipay. He has successively held the posts of senior partner in several famous Internet companies like MikeCRM and Kf5.com, etc.
Eric Don (COO)
Senior Researcher of the Internet and Systems Architect. He has accumulated over 10 years of experiences in working and starting businesses in the Internet industry and successively held the posts of CTO and senior partner of famous IT companies including Youling, Fengzheng Lianxian and Ruiyun Wulian, etc.
Top Lan (CTO)
Technical expert of the Open Source Community and manager of several popular open source projects in github. He has accomplished the design and deployment of Kucoin financial trading system.
Kent Li (Operation Director)
Expert of operations development and successively held the posts of Operation Director and architect in several Internet companies. He is also the regional Operation Supervisor of the REAP project initiated by Stanford University in Asia.
John Li (President of the Business Operations Group)
President of Jianbang Communication and Project manager of famous domestic group-buying website. He is in charge of over 30 group-buying service centers around China with his main focus on consumer finance.
Jack Zhu (Marketing Director)
Operations Director of the southwestern market of iBOX PAY. He is in charge of a marketing team with over 300 employees.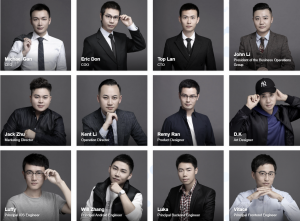 KuCoin Trading Volume
KuCoin is doing quite good and is already Top 20. At the moment its one of the fastest growing Crypto Exchanges out there!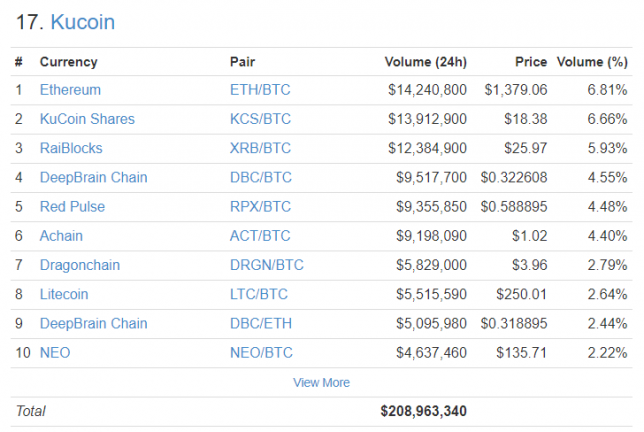 KuCoin Exchange Fees
Trading Fees
0,1% (Will charge from the asset you bought)
Deposit Fee
Free
If you're holding their $KCS token, you can even lower that fee. Sometimes KuCoin does special promotions, where they offer discounted fees or even "zero fees" for a limited time.
KuCoin Listings
The KuCoin Team is actively searching and filtering out new altcoins to list on its exchange. They have already listed a lot of really great coins with a lot of potential.
KuCoin also lists pretty much every NEP 5 Token (based on NEO) and is one of the first ones to do so!
Binance vs KuCoin – Conclusion
In our review we came to the conclusion, that Binance is clearly the Winner. They do not only have the biggest Trading Volume and a great Trading Interface, they also have  a really good and responsive Support Team. Binance is probably one of the most secure exchanges out there. They also have a highly experienced Team with good Advisors. Binance has a great variety of Coins and you can trade pretty much any coin on there. I would definitely recommend the Binance Exchange!
Click here to Signup for Binance: Signup Now
Click here to Signup for KuCoin: Signup Now