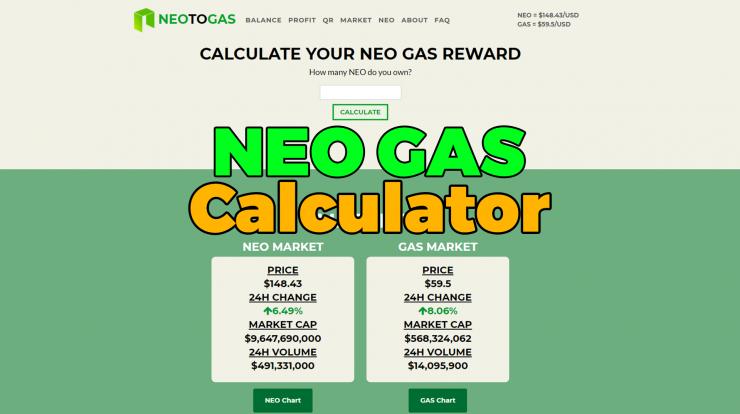 NeoToGas.com is a NEO related Website which features a NEO GAS Calculator, NEO Balance Checker, NEO GAS Profit Calculator & more.
I developed this website myself & tried to make it as useful as possible for the NEO Community.
The GAS Reward Calculations are based on the NEO Whitepaper & Actual Block Generation Time for a more accurate GAS Reward Calculation.
Check it out: https://neotogas.com
Buy NEO: Binance.com
WHAT IS NEO?
NEO is China's first ever original and open source public chain project. NEO serves as a smart assets platform. Smart assets are the combination of smart contracts of blockchain technology and digital assets. NEO allows for smarter registration, issuance, and circulation of digital assets.
NEO via technologies including P2P, dBFT, digital certificate, smart contract, superconductive trade, cross-chain operation protocol, enables people to manage smart contracts effectively, safely and legally.
By holding NEO in your wallet, you are getting GAS as a Reward. That's a nice opportunity to generate some Passive Crypto Income.
Buy NEO: Binance.com
NEO GAS Reward Calculator
Input how many NEO/s you own and calculate how much GAS yield that generates. You can switch the yield from GAS to BTC & USD.
Theory Calculation = GAS Yield Calculation based on the NEO Whitepaper.
Actual Calculation = Actual GAS Yield Calculation based on the current Block Generation Rate.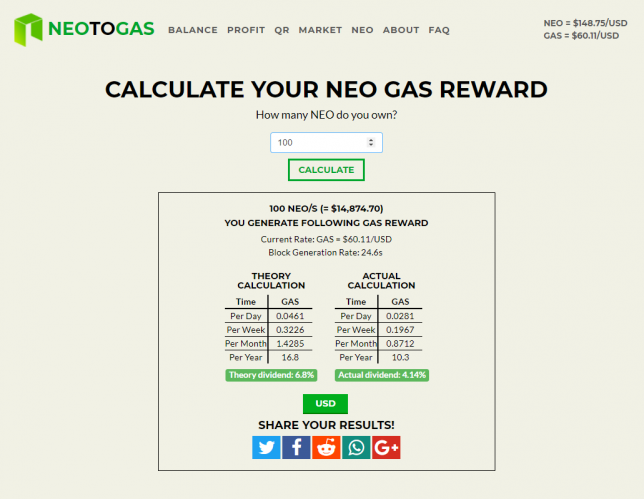 NEO GAS Profit Calculator
Calculate your NEO or GAS Profit with this cool Profit Calculator. Simply type in the amount of NEO or GAS you bought at X Price. Calculate and see how much Profit you got so far!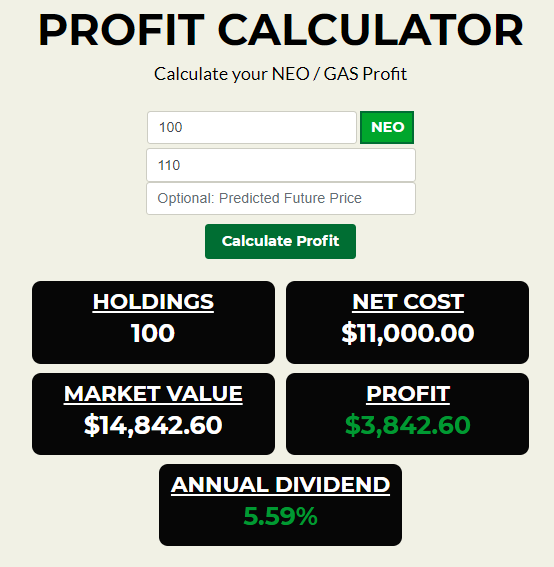 NEO GAS Balance Checker
Input your NEO / GAS Address and check how much NEO & GAS you currently have on that Wallet. It will also check for unclaimed GAS which you generated.
Below it also shows your Account Balance Value in $.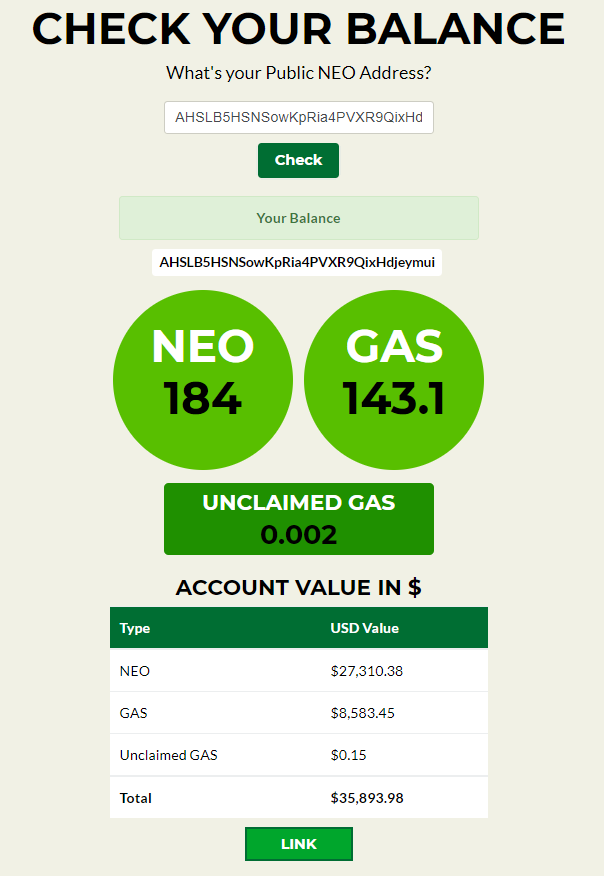 Check it out: https://neotogas.com
Buy NEO: Binance.com